From Bob Cesca's Awesome Blog:
How many more examples of tea party racism do we need to discover? Here's an image being circulated by Tea Party Republican and member of the Orange County Republican Party central committee Marilyn Davenport.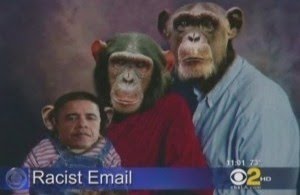 The caption? "Now you know why —- No birth certificate!"
The civility meme is still alive, but come on! The tea party is ruled by race-baiting and outright racism. The examples are numerous: racist rally signs, former Tea Party Express chairman Mark Williams publishing racist remarks, tea party leader Dale Robertson brandishing a "niggar" sign, tea party activists shouting "nigger" at a member of Congress, etc, etc. As I've written before, once we dismiss the ridiculous and contradictory political positions as merely cosmetic horseshit, all that's left is white conservative fear of a brown president and a browning nation.